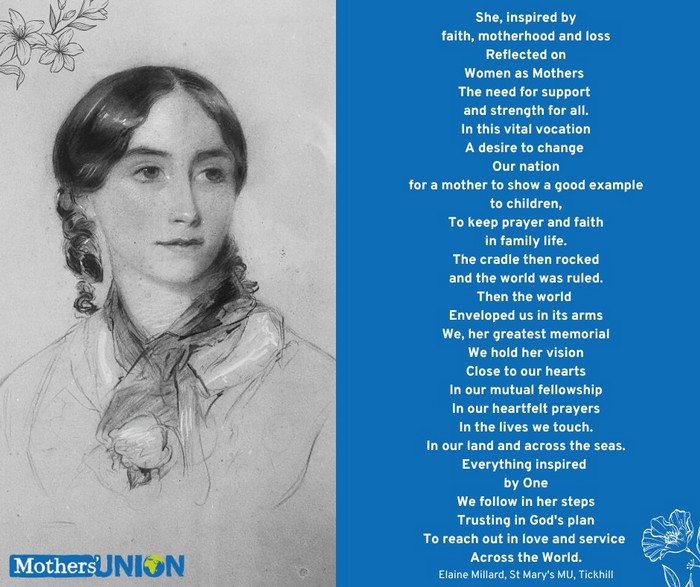 Armagh
A fantastic gathering of members joined together at our Diocesan Prayer Walk tonight at a warm and dry Gosford Forest Park, Markethill on Mary Sumner Day (Founder of Mothers' Union). Debbie welcomed everyone and led in prayer with Revd. Alan Cross, Diocesan Chaplain. We sang My Jesus, I love thee, Amazing Grace and What a fellowship together with prayers led by Beth, Linda and Eleanor.
Revd. Cross said Grace before the group split for a short or longer walk. Back at the car
park Jennifer prepared some hospitality and as members returned from the walk we enjoyed tea, coffee and biscuits. Thank you to Claire who prepared our Service sheet, Revd. Cross and Debbie for leading our Prayer Walk.
A large number of members gathered at The Rectory in Bunclody to enjoy a wonderful afternoon of fellowship organised by William Bayley, Unit Coordinator for Fundraising and Communication, and Valerie Power, Unit Coordinator for Action and Outreach, to celebrate Mary Sumner Day.
The afternoon began with a short service led by Revd. Ger James, Diocesan Chaplain, with readings and music by Revd. Canon Trevor Sargent, Unit Coordinator for Faith and Policy.
William organised a baking competition entitled "A Victoria Sponge with a Twist" and there were over a dozen entries for the competition. There was a great array of different cakes and they were judged by Revd. Ger, Canon Trevor, and guest judge Rebecca Allen. All the entrants were asked to give a brief description of their cake and what was the "twist". The winning cake was made by Áine Neville and the unique ingredient she used in her recipe was "Earl Grey Tea". Everyone enjoyed sampling some of the cakes after sandwiches and finger food served by a caterer.
We were blessed with a lovely fine afternoon and Lesley thanked Canon Trevor and his wife, Áine, for hosting the event in the idyllic grounds of the Rectory. Lesley also thanked members of Bunclody Branch for all their work in preparing for the afternoon's celebrations.
Cork
What glorious day for our outing to Youghal on Mary Sumner Day. Thank you to all who came, to
Deirdre Whitley
who organised and especially to Rev Ivan Ruiters who came all the way from West Cork to lead our short service and share his thoughts with us.
Thanks go also to the two tour guides, Wayne and Shirley, for their amazing insights into the Collegiate Church and the Clock Tower, and to the Old Imperial Hotel for a super lunch.
Down & Dromore
Down & Dromore Mother's Union Prayer Walk on Mary Sumner Day - Wednesday 9th August and was organised by our Faith & Policy Team.
Around 45 members went to the
Walled Garden at Castle Grounds, Bangor.
Supper was provided by our host branch, Bangor Abbey. Thank you ladies!
Derry & Raphoe
M
ary Sumner Day - THANK YOU Diane, Revd Liz and Andrew for leading a wonderful afternoon of prayer, reflection and music in the See House Prayer Garden. We were refreshed, energised and, of course, fully chatted out!
We give thanks for the gifts of Mary Sumner and we pray for the continued work and witness of Mothers' Union, placing our trust in God's willingness to hear, and in his power to answer and transform.
The MU theme for this triennium is transformation, and what a transformation happened here over quite a number of years, to bring an abandoned piece of garden back to life.
A
beautiful garden brings us such joy; reminds us of the beautiful things that are God given, with a bit of graft from us, brings such satisfaction and blessing.
And so, it is with our life as a Christian, and a member of Mothers Union – we can make great things happen – but it takes a bit toil and effort;
• weeding out the unnecessary and planting the useful
• tend and encourage good growth.
• and see how bare plane soil become a wonder of flowers, or fruit, on a big scale becomes field of wheat, or potatoes or strawberries.
• To see how with attention and care, bare lives filled with unwanted weeds can be transformed into happy productive lives.
We see amazing transformation.